So you've finished school, college or university and got yourself a new job? The only problem is you are still driving that old banger you've had since you were seventeen! You can't pick up colleagues and clients in that thing, it's time to be a real adult and get yourself something a little more fitting to your new role. You are officially a young professional.
The problem now is which one to choose? You want something that looks nice and professional without being boring, after all, you still have to look at it every day! It should have a nice interior, it doesn't need all the bells and whistles but it should at least be a pleasant and comfortable place for yourself and others to sit. You need it to be reliable, something that many forget about. You won't keep that fancy new job of yours for very long if you keep arriving late because your car won't start now will you? You may have to travel long distances for work, your car needs to be able to deal with those long drives comfortably so it will need to have a decent amount of power too.
Many of you will be tempted by whatever the latest hatchback is, let me just stop you right there. Hatchbacks are great, in fact there are many of them on this list but remember this isn't your first car anymore. Provided you haven't been a vehicular menace for the last few years, your insurance shouldn't be costing you thousands of pounds anymore and as a result you can actually think about getting a larger, more powerful and luxurious vehicle! Interested now? I thought so.
Remember you don't need to have saved up all the money for one of these. Creditplus is your friend and while financing may not have been available when you first started driving, it probably is now. As long as you've been registered on the electoral role for a few years and kept up to date on any credit card or loan payments you should be just fine getting finance on the vehicle you want.
1. Audi A3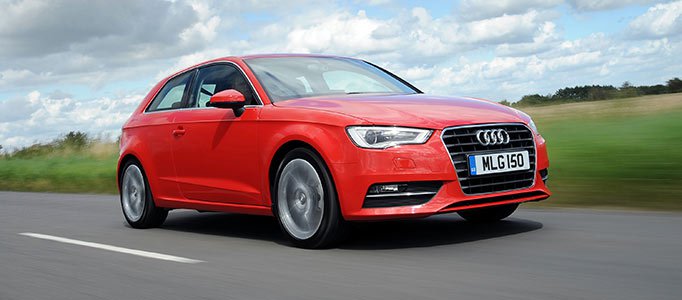 The Audi A3 is a staple for many new professionals; few other cars combine the practicality of a small car with the looks and luxury of larger vehicles.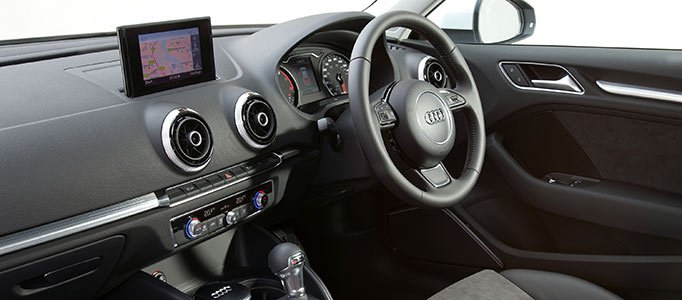 The A3 is a great alternative for those set on buying a Golf, a similar price and performance level but will hold its value far better when it comes time to move on.
As you would expect from one of the German big three it's very well built and the interior is a great place to sit, perfect if you need to pick up those clients or new colleagues of yours. All of the engine options are strong and a choice of suspension set ups allow you to pick a car that works best for your driving needs. You may be surprised as the prices you can pick these up for second hand.
2. Mini Cooper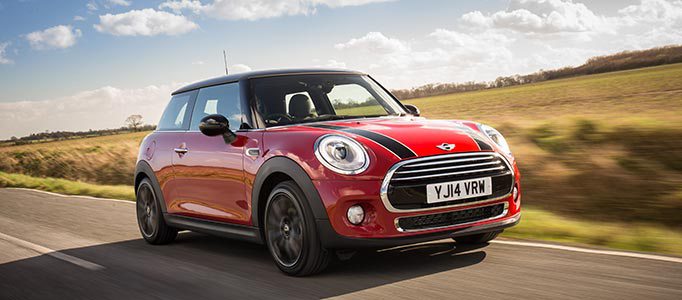 You can't go anywhere without seeing a Mini Cooper at some point and there is good reason for that, they are great cars. While they may not be so mini anymore, you will feel the benefit of all that extra space in the cabin.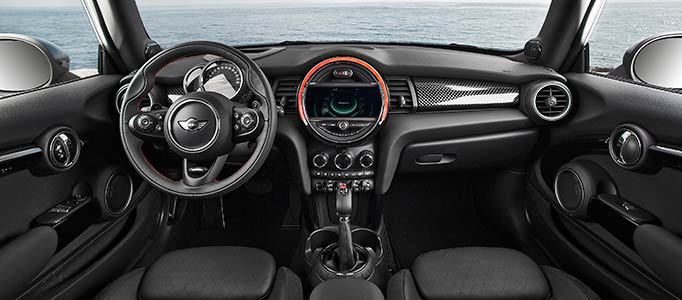 The Mini has grown up since it's original days and is now a great driving, well equipped and comfortable car to be in. While they certainly aren't cheap brand new, the saturation of the market has made these very easy to pick up second hand for a reasonable price.
3. Ford Mondeo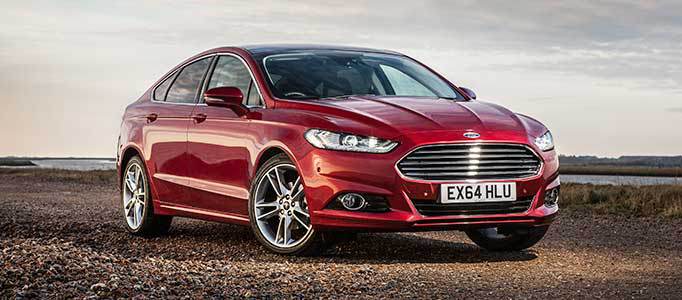 You may not have thought of a Mondeo and I can understand why. The Mondeo you probably knew growing up was a pretty drab affair and not particularly easy on the eyes either. However, take a look at what they look like now.
That is a good looking car by anyone's standards. I'm not saying they look like Aston Martins but they kinda do, that front end looks very familiar and it really is a smart looking vehicle all around.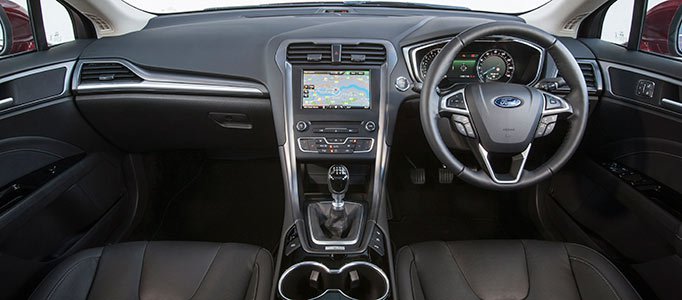 This might not be one for you city dwellers as it is obviously a larger car than the hatchbacks you are used to but for those who might be doing some serious miles, this would be a great choice. The ride quality is really good and Ford's efforts in the refinement department don't go unnoticed. The interior is a nice place to be, while it doesn't quite stack up to the luxury brands it certainly doesn't feel cheap, also improved sound dampening removes almost all outside noise. It even has a fancy 8-inch screen infotainment system for all your gadgety needs. All that for extremely reasonable prices.
4. Vauxhall Insignia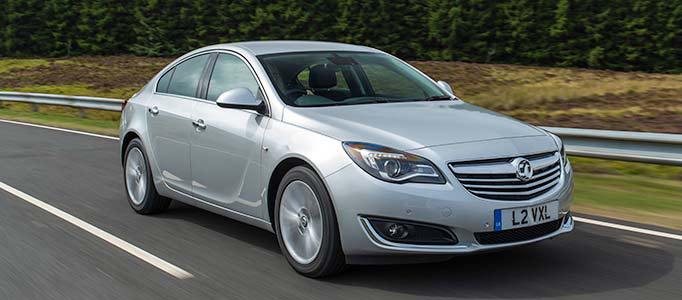 Another saloon now and yes you really can get a proper saloon for your second car. You probably weren't expecting to see this one on the list either. The Vauxhall Insignia has the size and luxury looks of much more expensive cars but a fraction of the price. If you want to make an impact and look professional at work, this would be a good way to go about it.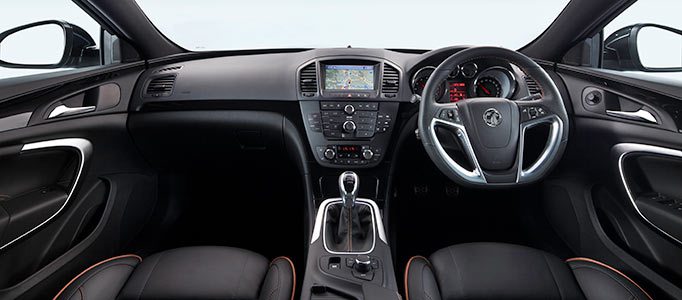 The Insignia is particularly popular with companies who buy them for company cars and there is a reason for that. They are great value, they look smart and they handle long distance driving without any problem at all. The ride comfort and refinement are excellent, however that softer suspension means you won't be winning many races, but that's not what this car is about. It's about professionalism on a budget and it hits that nail right on the head. The interior is great, you can have it with or without leather and even the base model comes very well kitted out. Definitely worth considering.
5. Fiat 500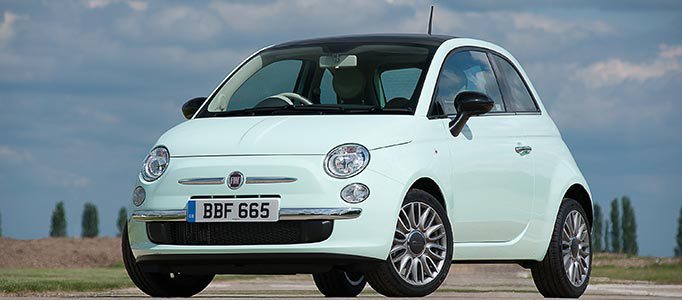 The Fiat 500 has come a long way from its origins, conceived way-back-when as an alternative to the scooter would you believe it? Like the Mini and Beetle it was built as a cheap car for the masses but take a look at one now and you will find a whole lot of style and luxury for a very affordable price.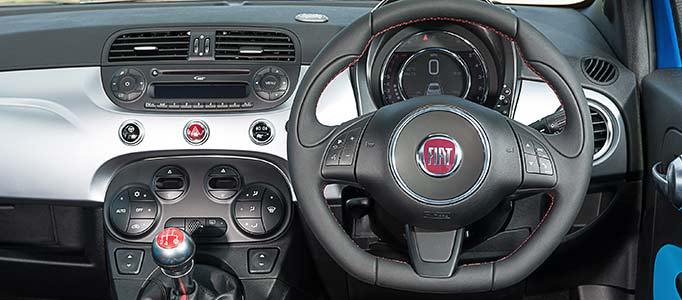 This car will be perfect for all you city dwellers, the small size will make it ideal for city driving and fitting into those little parking spaces. It comes with a few different engine choices, the standard being a 1.2 petrol which is more than enough for the average driver, being such a small car. If you are mainly doing city driving then the 0.9 litre twinair might be the choice for you. Also you won't have to pay the London congestion charge, a nice little bonus! The cabin is a nice place to be, nothing too fancy and it doesn't have a lot of the toys some of the other cars on this list have. You'll get CD/MP3 and air-con standard but things like Bluetooth connectivity only come with the higher trim levels.
6. Citroen DS3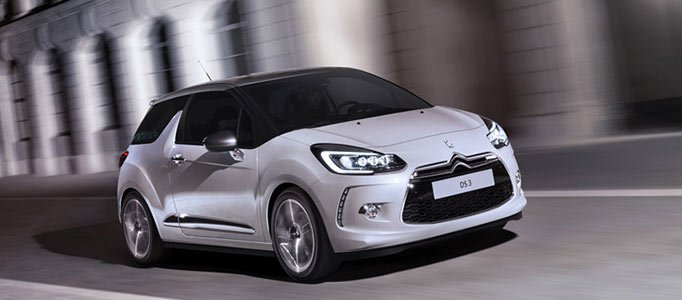 The Citroen DS3 is a fantastic car, it was voted '2010 Car of the Year' by Top Gear magazine, yes that's right, car of the year. It also came first four years in a row in the supermini category of the JD Power Satisfaction Survey UK. Those are some pretty high accolades and would be silly to ignore them.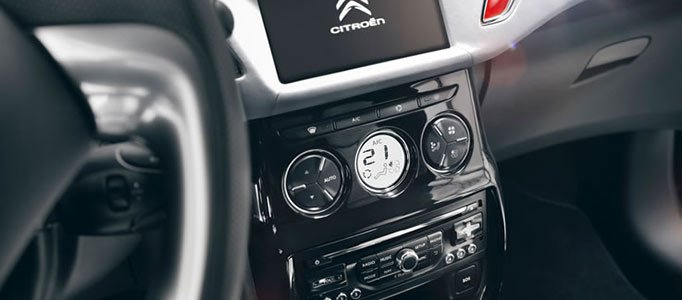 DS is Citroens premium sub-brand and it means Distinctive Style, and you get shed loads of that with the DS3. It's a very quirky and stylish car, certain to turn some heads and impress in the company car park. Every engine option that comes with the DS3 is considered strong by reviewers, no matter which you choose you will have an enjoyable driving experience. The DS3 well equipped even as base model with electric windows, cruise control, daytime running lights and central locking. The car looks young and funky but reserved enough for the serious professional, which is what you are!
7. Lexus IS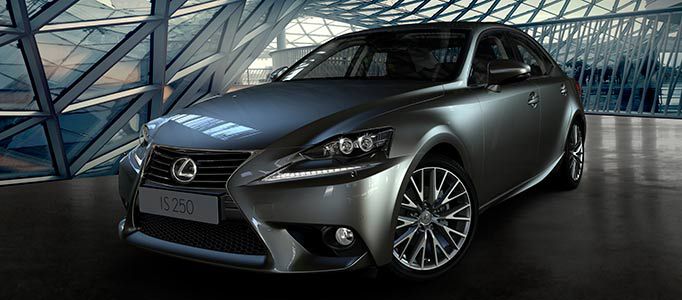 Surprise! A wild Lexus appears! I bet you hadn't even considered something like this, don't lie to me either, I know you hadn't. I'm not saying you are going to get a new one of these, particularly the brand spanking new 2015 model, unless you are a very professional new professional. You can, however, pick one of these up second hand for not an absurd amount of money. This is because everyone is obsesses with German cars at the moment and the second hand market for luxury Japanese cars isn't in such high demand so bargains can be had and you get a lot for your money because it isn't one of those big German three.
These were made as a direct contender for the BMW 3 series and Audi A4s but you can get yourself a good quality second hand one for much less than you would get a similar condition one of the others. Lexus are renowned for their quality and the styling means it wouldn't look out of place anywhere, certainly looks professional and stylish enough for picking up even high profile clients or colleagues. Also your friends will probably think you're doing better than you actually are if you drive a Lexus and who doesn't want that?! They come with loads of kit: suede seats, cruise control, climate control, headlight washers, front fog lights, keyless entry and 17-inch alloys are all standard. Also, check out that interior. That is a pretty interior.
8. Mazda 3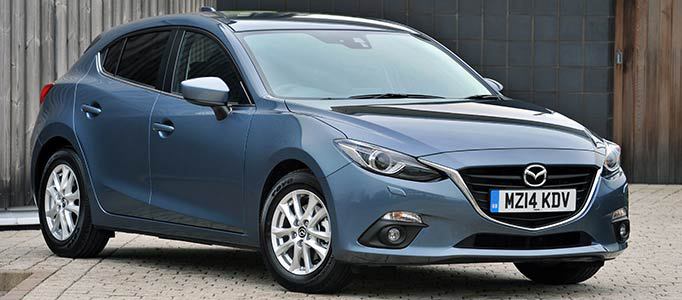 The Mazda 3 is an excellent all around car, a great hatchback but also big enough to worry some of the saloons on this list. It looks great, good enough for you to look back at after you've parked it yet refined enough so that your colleagues will know you mean business.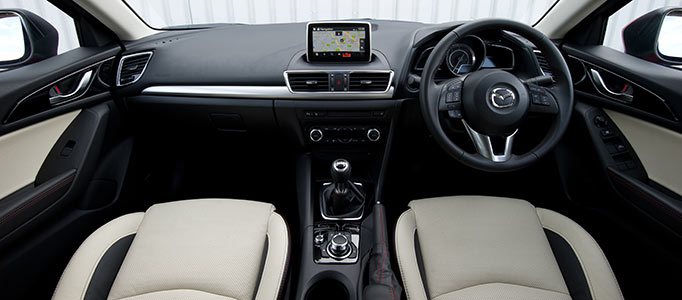 The petrol engines are nothing to write home about but they certainly do the job, albeit with a bit of noise. The 148hp diesel, however, will pull you along nicely and is all the power you need for any motorway driving you will be doing. The nice thing about the Mazda 3 is the fact that they know they needed to price the 3 to be competitive. Which means they heavily undercut rivals like the VW Golf, that means second hand prices are a steal. Quality hasn't always been Mazda's strong suit but they've upped their game here and the 3 has a nice feeling cabin and it's got a smart infotainment system too. 16-inch alloys, air-con, Bluetooth, USB connectivity and steering wheels stereo controls are standard so why even bother spending more on higher trim levels, there's no point.
9. Seat Leon
The Seat Leon is one of my personal favourites on this list, you might notice that the Golf is lacking from this list, well that's partly down to this car (and the A3). As Seat is part of the VAG group (they make VW's) this car uses the same platform as the Golf, same deal with the A3. The Seat Leon is something a bit different, you can't drive 100 metres down the road without seeing a Golf of some variety, the Leon offers a bit of variety, something a little bit different and I think that's important for the new professional. To stand out.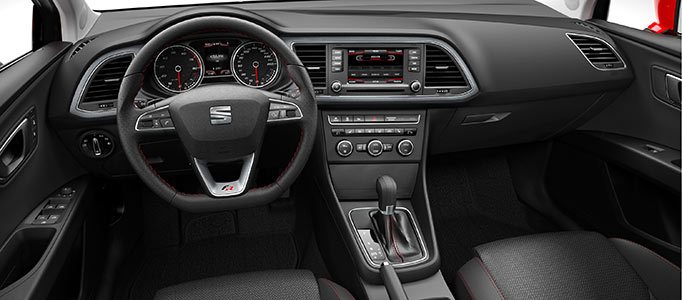 The Leon comes with a range of engines to choose from, including a great diesel for those of you with fuel economy in mind, it comes very close to Golf Bluemotion territory in terms of MPG. The Leon also looks great, it nicely fills the gap between the executive looking A3 and the quite reserved style of the Golf, a little more flair to make you stand out. There's plenty of room inside for those pesky colleagues of yours we keep talking about and as it's from the VW group you know the interior is gong to be nice. Everything feels well made and is finished nicely, also there is a swanky touch screen system which is a breeze to use. The entry level model comes with that nice touch screen, air con and Bluetooth which is probably enough for most. The SE spec comes with a few extra bits, electronic lock differential for examples, front fog lights and some interior touches. The higher spec models start getting expensive and really cater more toward performance than comfort. All round a really great car.
10. BMW 1 Series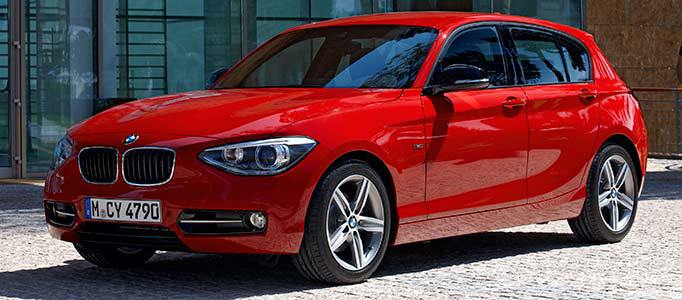 Most people head straight in for the financed BMW 3 Series when thinking early BMW purchase and indeed it's a fantastic car and our best seller. Let me me just give you an alternative option though, the 1 Series. First of all, the 3 series is a big car, do you need that much car right now? The 1 Series offers the same prestige you get with the badge, the same luxury interior and looks but for a lot less and you simply may not have the money for a 3 series right now. Don't worry you can always get one a year or two, save that money to buy flowers for your mum! Anyway, the smallest 114i is the smallest engine they offer and should be more than enough, however there is always the 116i or 124i if you fancy a bit more power and quite frankly you don't need the 135i, it's expensive, don't be silly.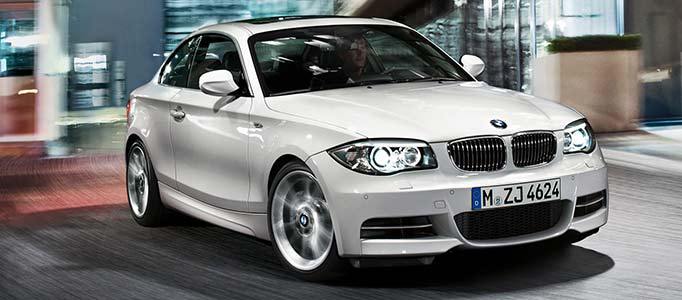 Obviously as a BMW, it's going to cost a bit more than some on this list, however these have been in production a while now so second hand ones aren't exactly hard to come by and are very reasonably priced and easily financed. The 1 Series is a bit of a Martmite car, people either love the styling or they hate it, personally I quite like it. However, if you are one of the many who doesn't like it then take a look at the coupe version above. It is essentially just a smaller 3 series, very nice looking and bound to turn some heads. The entry level 1 series is a bit sparse on accessories however the interior is as you would imagine, lots of leather and metal, it feels well made too. You get alloy wheels, DAB digital radio and satnav as standard, we might suggest getting a slightly better optioned one though. All in all though, you can't argue with the badge and build quality, the 1 series means business and that's what you want.
Those are my suggestions then, I hope they've been useful. There are some really great cars in this list and some that seem to get overlooked a lot just because they aren't what is super popular right now. A sensible buyer considers all of the options when buying a car and doesn't just decide based on what everyone else is driving!
Article source: https://www.creditplus.co.uk/blog/ten-cars-for-the-young-professional-6996092/